clear as black and white...right?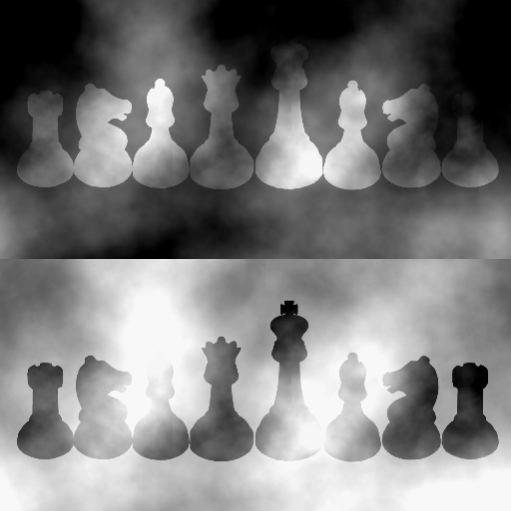 The image above probably looks very normal - a set of everyday chess pieces (without pawns). White pieces on top covered by black clouds, and black pieces at the bottom covered by white clouds. If they don't look like chess pieces, try clicking on the picture to enlarge it - my friend thought they were teeth when he saw it on my msn display pic!
So, if we are imaginative, and assume the chess pieces are real, it would make sense that we can use them and play a normal game of chess...right? Well, not quite - because the chess pieces are identical. They are the same - pixel for pixel. If you don't believe me 'cut and paste' the chess pieces and they will magically "change colour". Even if you believe me you can give it a go, quite mind blowing if you ask me!
When I first saw this picture in a psychology lecture and I was confused as to why the lecturer (Bart) had put the image up, until he said "It's an optical illusion, the chess pieces are the same." I think most people in the lecture had a sudden "no way" moment - I certainly did!
After the lecture, I tried to replicate the illusion (without much success) until I stumbled across the article Image segmentation and lightness perception that was published in Nature. Funny thing is the lecturer was actually one of the authors of the article - no wonder he used it in his lecture. My understanding of the illusion is that our brain takes some shortcuts when processing the image, and therefore it 'cuts' the image into segments which may not necessarily be correct, thus causing the illusion. For a better explanation read the article - it's quite interesting.
There are a few other optical illusion on Bart's homepage (go into Cool Demos), some of them are quite cool, but a must see is the moving version of this illusion. If you ask me THAT is really mind blowing!
Oh, and if you want to see my attempt to create the illusion have a look at my deviantID.